No additional charge for cupping therapy
when added to your session.

© http://www.cuppingtherapy.org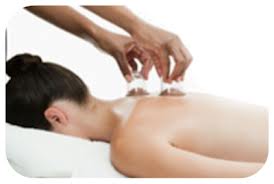 ~ Cupping ~ ...
the utilization of cups to apply
suction therapy to the body.
This traditional, time-honored treatment remains favored by millions of people worldwide because it's safe, comfortable and remarkably effective for many health disorders.
Baguanfa is the modern term for Suction Cup Therapy. Baguanfa therapies have been used by healers for more than 5000 years - and is referred to in other cultures as Bentusa, Vendouse, Gac Hoi, Bahnkes, Kyukaku,Txhuav, Ventosaterapia, SchrÖpftherapie, Kupa Cekme, Jiaofa, Bankovani, Ventouzzes, and Vacuume Terapi.
The effects of manual therapies are
greatly increased with Cupping.
~Deep Tissue Massage ~ Myofascial Release ~ Lymphatic Drainage ~ Orthopedic Conditions ~Neuromuscular Dysfunctions ~ Sports Massage and Injuries ~ Stubborn Conditions ~Fybromyalgia ~ Trigger Point Therapy ~ Traumatic Injuries ~ Chronic Conditions ~ Abdominals ~ Reflexology ~ Physical Therapy ~Detoxification
~ Cellulite, Scar, Stretch Marks and Varicosities
~ Facial Treatments ~ TMJD's ~~ General Relaxation and Wellness ~
The historical, clinical and subjective efficacy of this modality is most impressive.
What is Cupping Therapy and What are the Benefits?